Campus Map
Driving Directions
Samohi Bell Schedule & Arrival
Parking
Food
Festival Facilities & Pathways
Picture 1
Picture 2
Picture 3
Picture 4
Picture 5
Picture 6
Picture 7
Picture 8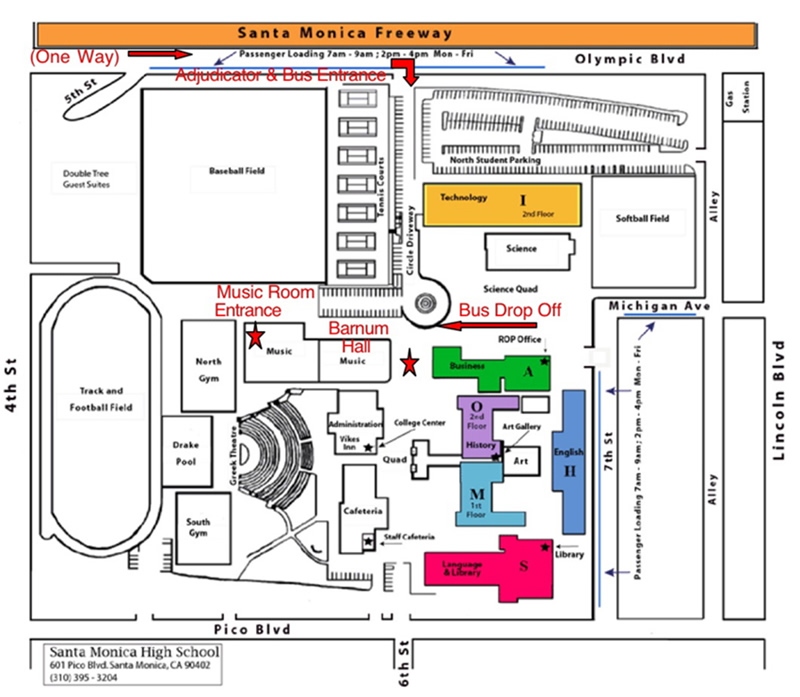 Get on the I-10 going West. Take the 4th Street Exit (stay left).

Turn Left onto 4th Street. Immediately turn Left (as if you are getting back on the I-10), however, veer Right - do not get back on the i-10!

You will be on Olympic Boulevard, which goes right by Santa Monica High School.

If you pass Lincoln Boulevard (the next stop light), you have gone too far.

You will pass the baseball field and tennis courts.

Busses will turn Right into the entrance at the end of the Tennis Courts. Unload students at the Drop Off Circle.

The busses will be directed to off campus parking.
Address: 601 Pico Boulevard, Santa Monica, California 90405
View Larger Map
The following Bell Schedule may help you plan your arrival at Samohi. Please note that traffic around the high school is very congested immediately before Period 1 and immediately after Period 6. You may want to plan your arrival to avoid those times. Passing periods are also very busy on campus - you may find it less stressful to arrive during a period that is already in progress. Please Check In at the Check In Table in the Lobby of Barnum Hall. All scores should be submitted to this table, and all packets and papers will be retrieved from this table. Ratings will be posted in the lobby, and medals, pins, stickers, etc. will be sold in the lobby.
Monday Tuesday Thursday Friday Bell Schedule

A
07:12 - 08:08

Heavy Traffic Before 1st Period

1
08:15 - 09:11
Homeroom
09:18 - 09:28
2
09:28 - 10:24
Break
10:24 - 10:29
3
10:36 - 11:32
4
11:39 - 12:35
Lunch
12:35 - 01:10

Some additional Lunch Traffic

5
01:17 - 02:13
6
02:20 - 03:16

Heavy Traffice after 6th Period
Wednesday Bell Schedule

A
08:45 - 09:30

Heavy Traffic Before 1st Period

1
09:36 - 10:21
2
10:28 - 11:13
3
11:20 - 12:05
Lunch
12:05 - 12:40

Some additional Lunch Traffic

4
12:47 - 01:32
5
01:39 - 02:24
6
02:31 - 03:16

Heavy Traffice after 6th Period
There may be some parents/chaperones/staff who wish to drive independantly to the festival. Please note that during school hours, parking is extremely limited on campus. On Campus Construction this year will also decrease the amount of On Campus Parking. Our school parking staff will try to find parking for them, however, they should be prepared to park off campus. There is parking at Santa Monica Civic Center Parking Lot/Structure - across the street from the Samohi Campus. After school hours, campus parking is not restricted.
Our Band and Orchestra Parent Association will sell food near the instrument storage room. If you are from out of town, you may want to consider taking your students to the Santa Monica Place, or to the Santa Monica Pier for lunch or dinner. The Santa Monica Place, along with the adjacent 3rd Street Promenade, has many choices for food. The Santa Monica Pier also has several places where students can purchase food - along with a great view! Another alternative location to eat lunch is in the Pacific Palisades Park - along Ocean Avenue. Busses may pay for parking in the Santa Monica Pier Parking Lot. It is close enough, however, that you may choose to walk to these locations, and not worry about the busses. Or, you may want to arrange for a drop off and pick up plan.
If you choose to eat on campus, our administrators have advised us to have the students eat at the top of the Memorial Amphitheater (Outdoor Greek Theater). Please note that some PE classes may be in progress. Of course, there is no food or drinks allowed inside Barnum Hall or any of the Music Facilities.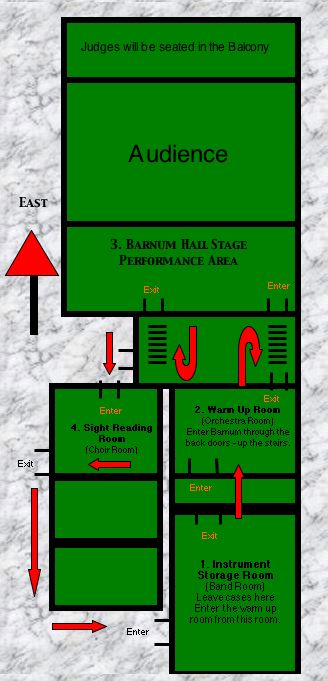 The Busses will drop students off in the drop off circle.

Barnum Hall is on your right at the end of this road.
| | |
| --- | --- |
| | This is the entrance to the Barnum Hall Lobby - please check in here. |
| | |
| --- | --- |
| This is the pathway that leads to the music rooms - on the North Side of Barnum Hall. | |
Entrance to the Band Room. When you reach this point on the pathway, turn left, and enter through the double doors into the band room.

This is where students will store their instrument cases.
Inside the Band Room.

There will be assigned spots for each school to store instruments on.

The double doors at the far end of the Band Room lead to the hallway, and then into the Orchestra Room - which will serve as the warm up room.
Barnum Hall Stage.

After warming up, students will exit through the double doors at the far end of the Orchestra room.

The inside stairs will lead them up to the stage entrance.
Upon completion of their performance, students will exit through the opposite side of the Barnum Hall Stage, down the stairs, and out these doors.

Turn immediately left around the electrical equipment, and enter the Choir Room for the Sight Reading Evaluation.
Choir Room.

The Choir Room will be set up for Sight Reading. Upon completion of Sight Reading, exit through the double doors - you will find yourself back on the pathway where you started, which will lead you back to the Band Room to pick up your instruments. Food will be sold near the Band and Choir Rooms.